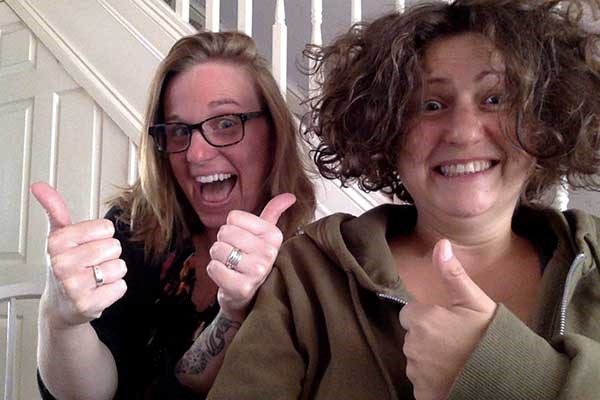 Writers' HQ joined Freedom Works in 2017 and began using the Worthing Event space for their writers retreats before growing to feature in Hove as well. They are the people you see around the space on a Saturday or a Sunday (if you are in!) and who some of you know from attending their retreats! Sarah from Writers' HQ did what she does best and answered our questions with a florish, here's what she had to say:
About Writer's HQ:
We have been running the business for six years, we put on retreats and online courses for serious writers with no time or money. Our demographic isn't really quantifiable because lots of people want to write, but we do see a huge number of working mothers who either feel like they need permission to explore something that's for them and not their family, or need someone where to escape from the constant demands of their family. Our unique selling point is that we swear more than every other writing school in the world. We have no time for literary snobbery or elitism and we don't have time to waft around talking about inspiration. We advocate chasing the muse, rubgy tackling her to the floor and demanding your creative dues. While we recognise the vagaries and peccadilloes of the creative process, we are also very goal-oriented. If you want to write your novel, you have to sit down and write your novel. The only real piece of writing advice anyone needs is in our strapline: stop fucking about and start writing.
Writers' HQ is run by Sarah and Jo, two micro-sized writers from the South Coast who couldn't find what they needed from other, more conventional writing courses and retreats. Jo is the John McClane in the air vents to Sarah's Sgt Al Powell yelling instructions down the radio. Our core team also includes Natalie, queen of social media and community, and Lexi, boss of all retreats everywhere. We also have a number of reps who run our retreats across the country and they are all excellent humans who we love a lot.
We currently run 12 retreats across the UK every month and we're launching one or two new ones every month this year. In 5 years we hope to have a solid overseas operation, and for our online community to be in the tens of thousands.
About Using Freedom Works:
We use Freedom Works to run our monthly retreats in Brighton and Worthing, and we're looking at launching in Chichester and Gatwick too. The spaces are perfect for what we do, and allow us to run our events at the right price in the right locations. We were suprised as we've had ongoing issues with finding the right venue in Hove and Worthing so it was great to find you guys!
About Sarah:
What inspires you?
Creative swearing is a core part of our brand but after six years it can become a bit staid to shoehorn the word cock into everything we do. Every day I am inspired by hearing that one of our team has snorted tea out of their nose as we moot new, terrible literature jokes for social media.
Also seeing our students get their projects finished, get published, win awards and get on shortlists is obvs amazing.
What motivates you?
We're motivated by several key things:
1. Creating a sustainable business that allows us to talk about books and writing for the majority of the time.
2. Creating a sustainable business which supports its employees to both live and pursue their creative ambitions
3. Helping writers stop fucking about and start writing
4. Making our tools available for as many people as possible, regardless of financial situation or background.
Who is your business hero?
Oh man, we are both so utterly uninterested in business. We genuinely couldn't give two hoots about it. We just wanted to make some cool things about writing and share them with other writers.
How do you spend your spare time?
We don't really have any spare time, but when we do: writing, reading, yoga-ing
What would you put into Room 101?
Climate change. People who put milk in first.
What do you especially like about living/working in Brighton?
I lived in Brighton for 16 years and moved to Worthing because of the house prices. At first I was super grumbly about it but now I love it. There's a wonderful sense of community and a quiet, hidden strand of exceptional creatives noodling away here.
What is your favourite hangout?
My bed.
Where do you network?
Ha no, I'm a writer. I sit in a dark room with a notebook and my imaginary friends. I don't actually SPEAK to people.
Thank you Sarah for all your wonderful answers! The next Writers' Retreat is on 7th April 2019, 11:00am - 16:00pm. If you would like to be come along in Hove please follow this link to book your place
https://writershq.co.uk/writing-retreats/
.