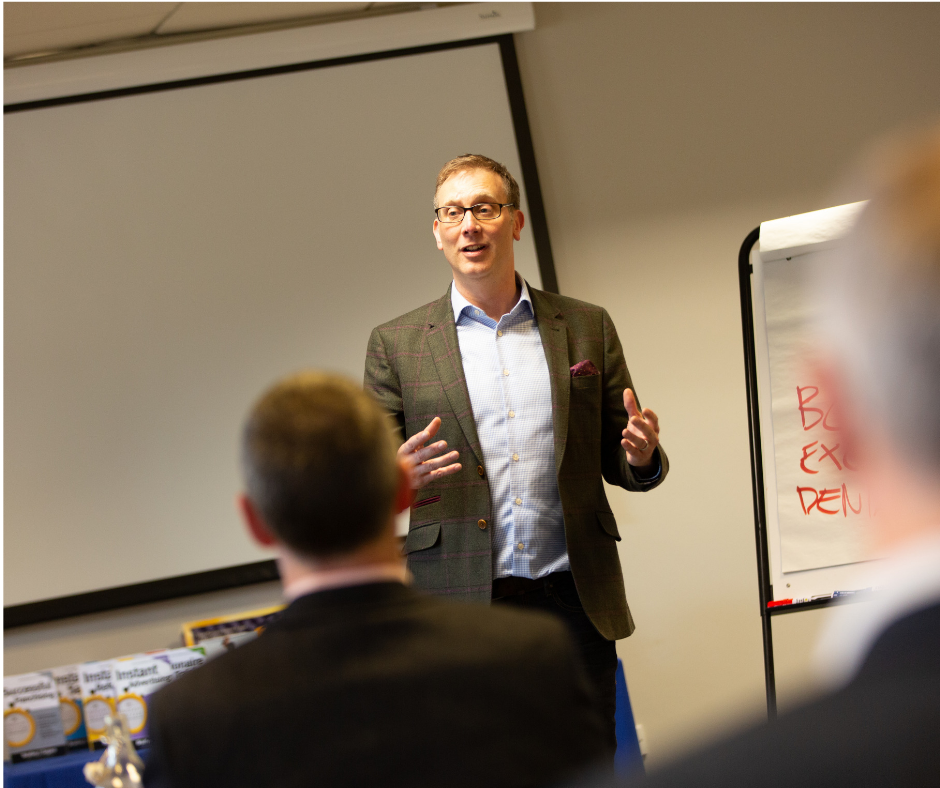 Tom coaches the owners of local small to medium businesses to get results in 3 main ways: 1) get more time back (so many people go into business only to discover they work way more hours than they intended to), 2) get their teams working more efficiently and 3) ultimately make more profits
His customers are the owners of local businesses who have a hunger for improving their business..........ActionCOACH is the largest network of business coaches in the World and have been operating for over 25 years. Tom came on board in 2018.
There are a number of business coaches out there but Tom says, "The system that we used is tried and tested on businesses around the world, for a quarter of a decade. It works, and gets results. We're so confident of that we guarantee that if there is no return on the investment made in a coaching programme within 6 months we will refund the difference."
We asked Tom what was the most important benefit of working at Freedom Works. His reply was, "I love the flexibility of the space - as my business grows it can grow within Freedom Works. It's also a great place to meet people and other businesses. What's surprised me is the diversity of business types that are here."
Tom's team comprises a business development manager who works with him in Hove, and another to join soon. The wider team includes marketing team, videographers, sales support and training. In 2 - 5 years time he hopes to be well on the way to achieving his 10 year vision - to improve the life of 1,000,000 people. "For every business owner's life I help to be less stressful or rewarding there are a number of people, such as direct family, that benefit. The businesses that get coaching will grow, employing more staff, and so the ripple effect continues." "Within 4 year's time I hope to have built up enough of a nest egg to ensure my two children make their way through University without acquiring a massive debt"
What is your proudest achievement to date?
"Having a son who at 13 was able to come out to his parents without any concerns or worries about our reaction."
What inspires you?
"Helping other people. I come from a career background where doing a good job just made somebody else look good whereas, as a business coach, when I do a good job my clients see direct and personal benefit."
What or who motivates you?
"Progression motivates me - if things are improving, if things are getting better then you are on the right path. The question is how quickly can one walk along that path (without picking up and injury...........if that's not too deep!"
Who is your business hero?
Tom's business hero, despite being an loyal Mac user and somebody who is increasingly confused by Windows, admires Bill Gates. "What he did (with a massive blunder on the part of IBM) was to build an amazing business. Post Microsoft the philanthropic work he is doing really sets the bar for the good that commercial success can do in the wider world."
How do you spend your spare time? "I have two children - I don't have spare time!"
What would you put into Room 101? "Procrastination. It stops so much getting done."
What do you especially like about living/working in Hove? "Being a bit of an ageing bohemian I do have a pull to Brighton & Hove. On a business side of things I find the talent pool here is great, and there is a very strong business community."
What is your favourite hangout? "One of the many coffee shops in the area."
Where do you network? "4N, BNI, Gatwick Diamond Business, Curry Club, Brighton & Hove Chamber of Commerce, and I'm looking at The Boundary Club too."
How can you help Freedom Works members:
"As a fellow FW team member I am able to offer a 90 minute Business Health Check. This will give allow you to identify some key focus points for your business, and identify a number of ways to get results."
"In addition I hold regular, free to attend business seminars at the Amex Stadium. These will give a further introduction to the ActionCOACH system and is guaranteed to give you at least three things that you can immediately implement in your business to improve results. Further details can be found on my website under the Events section."
Thank you Tom.........Please make sure that you take up Tom's very special offer to Freedom Works members of free 90 minute Business Health Check. This will give allow you to identify some key focus points for your business, and a number of strategies to deploy. Book your slot here:
bit.ly/Biz-Health-Check